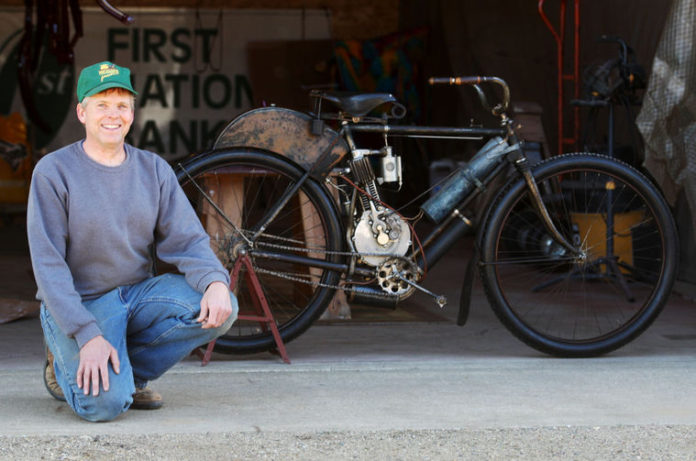 With 10 minutes to go until the main event of the Cleon Graber estate sale late last week — the sale of a rare, 1904 Indian Camelback motorcycle — Lindy Graber admitted he was "a little nervous; a little emotional" as he watched the public buy bits and pieces of his father's vast collection.
He also admitted he had a preference as to who might win his father's rare and valuable motorcycle, an auction item that helped draw hundreds of onlookers to the Wieman Land and Auction building outside of Marion Friday, April 10.
"It would be nice if it would stay in South Dakota," Lindy said.
Oh, it's staying in South Dakota, all right.
It's not even leaving the family.
In a surprising twist, Lindy and the Graber family bought back Cleon's classic motorcycle with a winning bid of $100,000, making for a bittersweet conclusion to a sale item that had drawn considerable hype; both Jay Leno and the Sturgis Motorcycle Museum had both reportedly showed interest in the artifact.
"We had a number that we didn't want to let it go for," Lindy told the Courier afterward. "We were hoping it would go for a little more than it did, but that's the way it goes."
He said the family buying back Cleon's 1904 Camelback was always a possibility — "a slight possibility," he said — and that the Grabers might try to sell it again.
"I'd like to take it to some shows, get it out in the public some more," Lindy said.
Until then, the rare find will remain with the family it's been with since Cleon bought the motorcycle in the mid-70s; it was a purchase that came about only because of Cleon's persistence.
Lindy said his father, an avid collector who had a particular love for engines and transportation, was tipped off about the 1904 Camelback from a fellow collector in the community.
Cleon went to visit the motorcycle owner in the Springfield area, only to be turned down.
"Dad went back several times," Lindy said, finally striking a deal with the owner after health issues prompted the owner to reconsider its sale.
With the Camelback Cleon's, it took up residence in a machine shed on the Graber farm east of Freeman where it sat.
Other than some minor changes to its 1904 condition, the Camelback is original. The tires were in bad shape when Cleon purchased it and were replaced; the battery box is not original and the decompression lever used to start the motorcycle has been altered.
Lindy said the motorcycle hasn't run since it's been in the family's possession; they tried to start it about five years after Cleon bought it "and it spit and sputtered a bit."
But the motor is in such good shape, he said, "I don't see why it wouldn't run."
Lindy believes one of the reasons his dad never worked harder to get it going was because he didn't want to damage the motorcycle; "He recognized how rare it was."
Its rarity was noted by Wieman Land and Auction at last Friday's sale; a video presentation that included an interview with Lindy was shown before the live bidding began and online offers had started coming in up to two weeks before Friday's sale.
Auctioneers called it "a chance to buy history."
The opening live bid was $30,500 and quickly climbed to above $70,000 before slowing and eventually topping out at Lindy's bid of $100,000 — despite the auctioneers' pleas for somebody to come in at $102,500.
Rich Wieman told the Courier in the days following the sale that they really had no idea how much the 1904 Camelback would bring; research showed similar models going for between $50,000 and $85,000 and, in 2012, one model that was billed as the oldest unrestored Indian motorcycle brought $155,000.
"It was one of those things where you didn't know for sure what it was worth," Rich said. "Coffee talk had it going anywhere from $50,000 to $200,000, so we really didn't know what to expect."
"It could have brought more," he said, "but it wasn't a bad price in this market."
And, he said, the motorcycle's sentimental value to the Graber family is worth a lot; "Lindy has a lot of love for that sort of thing, anyway."
As for being able to auction off something as rare as Graber's motorcycle, Rich called it "a privilege and an honor" and said they enjoyed monitoring the online bids that came in from across the country starting at $100 and climbing up to $30,500 — the starting point on Friday. "It commanded a lot of attention and that's what makes it so much fun.
"It's always fun to sell something that is out of the norm."
Rich could not verify or deny that Jay Leno's buyers were among those bidding, but he said the Wiemans had reached out to the celebrity who has a taste for vintage motorcycles in a number of ways.
"I know there was talk that he had voiced interest in several different online forums," Rich said. "But with online bidding, it's pretty easy to remain anonymous."
That Lindy ended up with his father's 1904 motorcycle is fitting, he concluded.
"It's a piece of South Dakota history," said Rich.
Lindy couldn't have said it better himself.
http://www.freemansd.com/news/article_d43650c8-e2c2-11e4-b392-f32e0185a1de.html