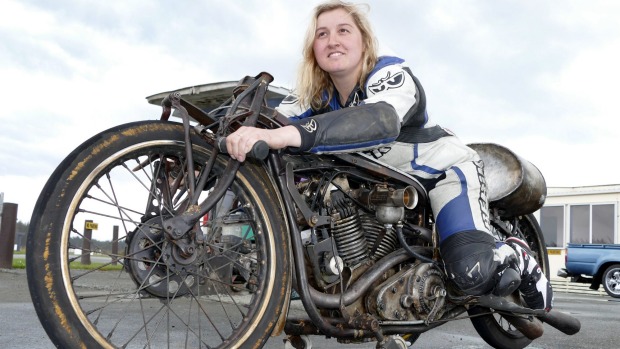 Two motorbikes that featured in The World's Fastest Indian movie will roar back into life at this week's Burt Munro Challenge event in Invercargill and Bluff.
The Burt Munro Challenge is being held for the 10th time from Thursday until Sunday and features six events ranging from hill and beach racing to track and road racing.
The event is named after former Invercargill resident Burt Munro who set numerous land-speed records for motorcycles with engines less than 1000cc at the Bonneville Salt Flats in Utah in the late 1950s and 1960s.
Munro's exploits on his motorcycle were based on the 2005 feature film, The World's Fastest Indian, some of which was filmed in Southland. Actor Anthony Hopkins played the part of Munro.
Burt Munro Challenge committee member Stephen Winteringham said they wanted to do something special to mark the 10th anniversary of the event this year.
So they have got hold of two replica motorbikes, from the Southland Museum and an Invercargill arcade, which featured in the movie a decade ago.
The bikes will be ridden in demonstrations before numerous Burt Munro Challenge events begin this week if the weather permits.
The event organisers wanted the public to see and hear the motorbikes in action for the first time since the movie a decade ago.
The motorbikes on show will be an Indian, which was ridden on Oreti Beach near Invercargill during the movie, and a Ducati which was under a fibreglass shell when ridden on the Bonneville Salt Flats during the movie.
The two people charged with riding the two motorbikes during the Burt Munro Challenge are Rhys Wilson and Francie Winteringham, the 2012 and 2014 winners of the Burt Munro family trophy.
They took the bikes for a spin for the first time on Monday, and Wilson was buzzing after riding the throaty Indian around the Teretonga track.
"Exhilarating. Every motorcyclist's dream," he said.
Francie Winteringham said riding the two bikes was a lifelong dream fulfilled.
"Burnt my leathers a bit, both bikes were a handful to ride, definitely unlike anything I've ever done."
Stephen Winteringham also rode the Ducati around the Teretonga track, and, like Munro in the movie, burnt his leg on the exhaust pipe.
"She's a mission, I take my hat of to Burt."
The bikes will be ridden at Bluff prior to the hill climb on Thursday, before the Oreti Beach racing on Friday and around Teretonga track on Saturday, Winteringham said.