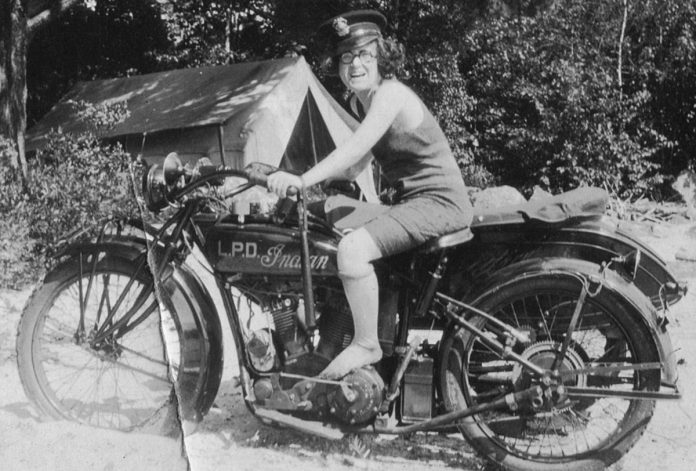 LACONIA — Laconia Motorcycle Week dates back to a gathering held in 1916, which is why the rally bills itself as the oldest in the world. The Laconia Police Department's motorcycling tradition is nearly as long, it turns out.
In fact, the Harley-Davidson that was purchased in 1920 – for $632, from Laconia Tire Company – was the first vehicle purchased by the department. Prior to that, Robin Moyer said, patrols were done using private vehicles, or with cars rented or leased from local dealerships.
Moyer manages the information systems and accreditations for the Laconia Police Department. She also serves as the department's historian. She can't point to a record explaining why Chief Charles Harvell, who served the city until 1933, saw fit to use city money to buy a motorcycle. However, other departments around the country had started rolling motorcycle patrols, the first being Detroit in 1908, and Harvell likely saw the same advantages in 1920 that Matt Canfield, the current chief, sees today.
The Laconia Police Department has a long tradition of maintaining at least one, usually two, motorcycles in its fleet. It currently has a pair of Harleys, Canfield said, and there are two officers who have gone through special training to use them on patrol.
"They're very maneuverable," Canfield said, which is useful when an officer has to respond to a call in the middle of a crowded situation, such as Weirs Beach during Laconia Motorcycle Week, for example.
But the motorcycles are useful during the rest of the year, too, Canfield said.
"We do use them all spring, summer and fall," he said. Officers doing traffic enforcement find that motorcycles have a "sleek profile," Canfield said, and motorists don't spot the officer as quickly as they would a larger police vehicle.
And, because the rider is more exposed on a motorcycle, Canfield said they allow officers an opportunity to connect with members of the public.
"You drive these down to a city park, kids love them," he said. "The motorcycle, it's a completely different vibe. It's important that the kids realize that the police are their friends."
Maneuverability
Motorcycles can weave through traffic and they can also navigate a variety of surfaces. In 1920s many of Laconia's roads were dirt and were likely of varying condition.
"Maneuverability is still one of the selling points of a motorcycle," Moyer said. One of the city's early motorcycle officers was Charles "Mickey" Dunleavey, who started as a part-time officer in 1925 and eventually retired as chief in 1962. He was a veteran of World War I, as were many police officers in the '20s. They likely saw motorcycles during their service, as the machines were used to transport wounded soldiers, deliver messages and even as a platform for machine guns.
If motorcycles could be used to navigate a battlefield, they should be just fine on a potholed dirt road.
Another early devotee of motorcycles was Lawrence Carpenter, who was a part-time officer in Laconia who later became part of the State Police.
While the city's first motorcycle was a Harley-Davidson, its next two, purchased in 1924 and 1927, were both built by the Indian Motorcycle Manufacturing Company, of Springfield, Massachusetts.
In Carpenter's mind, the Indians were the superior machine, his son, also named Lawrence, wrote in a piece for the now-closed Police Motorcyle Museum.
Carpenter, his son wrote, purchased many Indian motorcycles for his own personal use, often picking them up directly from the factory.
"He was not happy when personally informed by John Griffin that the State would be purchasing Harley Davidsons, as they were preferred by the majority of the officers. Carpenter swore that he never lost a vehicle he was pursuing until forced to ride a Harley. He was known to have stated that a Harley would make a good anchor for a boat. Carpenter continued to purchase his own Indians and use them on his job whenever he could. He bought a new bike every year, sometimes more than one."
The Indian name is now used on motorcycles manufactured by Polaris, and since Carpenter retired, there are several more options for modern police motorcycles, including from BMW and Kawasaki.
Canfield doesn't ride, so he said he didn't consider switching to another brand for his department.
"The Harley is what the officers prefer," Canfield said.