Indian FTR1200 Race Bike to Concept to Production
Topic starter
21/10/2018 8:16 am
[vc_row][vc_column][vc_column_text]Ever since Indian Motorcycle was revived by Polaris, the American motorcycle brand's lineup of products has been growing fast. However, there's one thing that all Indians have in common, from the entry-level Scout Sixty up to the luxurious Roadmaster Elite: they're all cruisers. Since the brand is positioned to go toe-to-toe with another century-old name in American motorcycles, the new Indian Motorcycle has been competing exclusively in those segments, and it's actually done a pretty nice job scraping out a market share for itself.
But for a while now, we've been hearing Indian promise that greater product diversity was on the way. Indian Motorcycle marketing and product director Reid Wilson told The Drive a year ago that the company would be "venturing into new categories with new models that push forward and expand Indian's relevance with a wider range of riders." A month later, Indian pulled the wraps off of the FTR1200 Custom concept bike, a motorcycle for the street that's heavily influenced by the dominant FTR750 race bike that's won that last two American Flat Track titles.
The concept was a hit and got a lot of attention, prompting Indian to confirm a production model in June and unveil the official FTR 1200 and FTR 1200 S production models this month. We went to the massive Intermot motorcycle show in Cologne, Germany where the bike was unveiled and had a chance to talk to a few big shots at Indian Motorcycle about how one of the most important American motorcycles in years went from a dominant flat tracker to a stunning concept to the first non-cruiser in Indian's modern history.
One of those big shots was Wilson, the same guy who told us a year ago to expect a more diverse lineup from Indian. "You'd like to think it was a really clear and simple path, but we started working on this bike in March of 2016," he said. "You make compromises and you figure out the best way to express [the spirit of the FTR750] in a way that is relevant for a street rider for something that will work on an everyday basis, but will still maintain the essence of the race bike."
So it sounds like a production bike was the plan all along ever since Indian got back into flat track racing. It just so happens that Indian built a very good race bike and a concept that was extremely well-received, both of which aided in building hype around a bike that you'll actually be able to buy.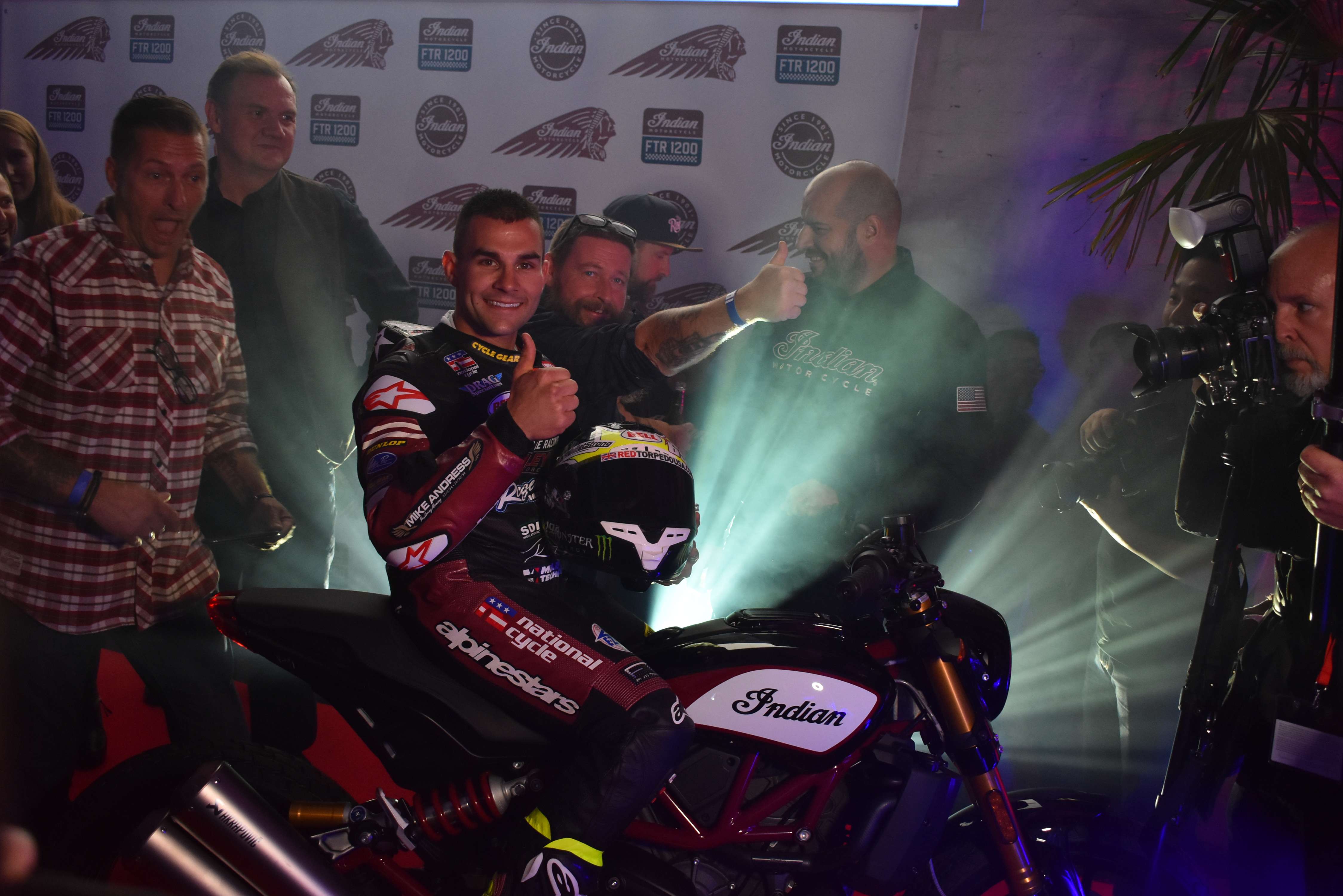 Eric Brandt
Flat track champ Jared Mees aboard the FTR 1200 with some very enthusiastic Indian fans behind him.
Wilson went on to talk about how Indian surveyed the globe and spoke with thousands of riders about what they would want to see in a performance-oriented motorcycle from an American brand. Based on that feedback, the FTR1200 Custom concept was born. I asked Wilson about some of the challenges involved in turning the concept bike into a production bike.
"Exhaust is always challenging just due to the regulatory challenges we face. This is a global bike so we have to adhere to a wide array of countries' standards," he said, highlighting of one of the most noticeable differences between the concept and the production model. "The FTR1200 Custom is a very pure motorcycle, but it's not a motorcycle you'd want to ride more than a couple hours at most. But you get on [the production bike] and you could ride this thing cross-country without a lot of compromises in terms of comfort. It's quite friendly to the customer in terms of comfort and performance."
Wilson went on to speak of the overall significance the FTR 1200 will hold in the American motorcycle industry. "The significance of this motorcycle is massive. I'm almost 40 and I grew up dreaming about this motorcycle from an American brand my entire life. To be able to work on it is a dream."
Indian Motorcycle
2019 Indian FTR 1200 S
Next up was industrial designer Rich Christoph, the man who designed the FTR750, the FTR1200 Custom, and the FTR 1200 production bike. He detailed the importance of starting with a race bike and designing a street form around it.
"Thank God we went racing to begin with," he said. "It would be really easy to just keep doing the same basic cruiser stuff and not get involved in flat track racing, but we challenged ourselves to raise the bar. We knew that racing would improve chassis development and powertrain development that got us information we can deliver back to the customers on our street bikes."
"I was trying to capture the championship lines and the shape of the tank and carry those lines, silhouette, and proportions into the FTR1200 Custom. I had nobody in the way telling me what I could and couldn't do. There were no restrictions. It was just pure sculpture, pure emotion, and pure mechanics."
For anyone disappointed that the production FTR doesn't look more like the concept, Christoph explained to me why they couldn't just mass-produce the concept. "What I may have done is done it a little too well. Now you've gotta take that bike and dissect it. You need to cut a seat and real fuel volumes out of that silhouette. The 1200 Custom had high pipes on it and you'd burn your leg after about 20 km and at about 25 km you'd run out of gas. And it would be about $95,000 to build that and sell it on the street."
Indian Motorcycle
Indian FTR1200 Custom
You hear that, naysayers? If you got a carbon-copy of the production bike in dealers like you wanted, it would almost have a six-digit price tag, not to mention its various practical disadvantages.
"All of those design challenges in making a real motorcycle at a cost that the customer is actually willing to pay for and fall in love with is a very delicate balance and it's a big challenge," said Christoph.
That design challenge was completely worth it, Indian's international product director Ben Lindemann told me, expanding on the importance of the brand exploring segments outside of its bread-and-butter cruisers and diving into racing.
"As a brand, we were always known for racing," said Lindeman. "When [Polaris] bought [Indian] in 2011 it was important to us from the beginning to get back into racing. Coupled with that, we wanted to grow outside of our traditional segments of cruiser, bagger, and touring bikes. We wanted to get into segments that are growing in the U.S. and are also really big internationally."

"About four years ago we said 'okay, let's do a race bike and then let's leverage that race bike to build a street bike.' Once we did the race bike we got a lot of feedback and people loved how it looked so we knew we were on the right path."
Indian Motorcycle- Jared Mees doing a burnout at the unveiling of the FTR 1200
But it isn't just visual similarities that the race bike shares with the production model. Although they share zero components, the FTR 1200 actually got some mechanical inspiration from the FTR750 as well. "The airbox on the FTR 1200 is directly above the throttle bodies just like on the race bike," Lindemann pointed out. "We ended up packaging the fuel under the seat which gave us more advantages. It lowered our center of gravity and made the bike more agile." Another mechanical similarity is in the bike's swingarm, whose tubular steel design matches the race bike as well.
Lindemann went on to talk about the four priorities Indian had when designing the street bike. It needed to look like the race bike, it needed to be fun, it needed to have character, and it needed to be customizable. Indian believes that with this formula, the FTR 1200 will be a hit that can set the stage for further diversity in the brand's lineup.
That leads me to the one question I asked all three of the important people at Indian Motorcycle that I spoke with. Since Indian is making it sound like the FTR 1200 is the first of multiple bikes to use this engine and this platform, I asked what Indian can tell us about the future of this new platform. All three answers made me giddy so here they are verbatim:
WILSON: "You'll definitely see more. When you ride the bike, you can feel where it can go and I'll leave that to your own interpretation when you get to ride the bike. You can see the potential in it and this will be one of many bikes coming over the next coming years. It's an amazing platform that has a lot of flexibility to go a lot of different places and it's going to be a really fun couple years."
CHRISTOPH: "We're exploring everything. I would say nothing's off the table. You can kind of look at the bike and you can imagine what its variants may be. I can't say anything specific, but we're not done. We're just getting started."
LINDEMANN: "It's a very capable platform. We think the Indian brand can play in any segment. We talked to a lot of customers and they feel like it's a brand that resonated outside of cruiser/bagger/tour. We think from a customer readiness and market readiness standpoint, we can go in any segment we want. We designed this platform to be capable of doing a lot of things. We have an exciting future with this platform and we've got a lot of other great news coming as well."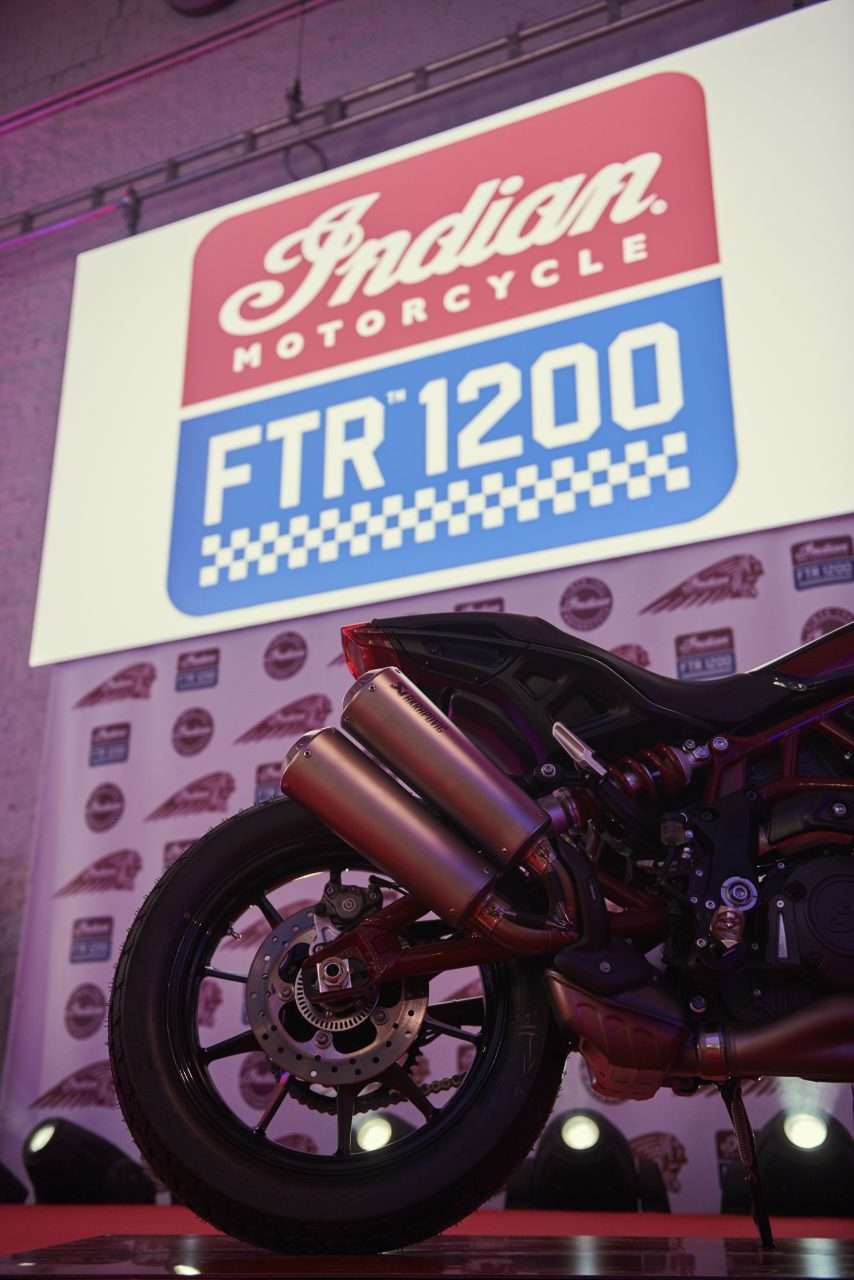 Indian Motorcycle
2019 Indian FTR 1200 S
My personal translation: Indian is probably working on an adventure bike with this platform. After seeing it in person, it's very easy to visualize different styling, suspension, tires, ergonomics, etc to morph this platform into a bona fide ADV. It's a very hot segment and it's one that Harley-Davidson is about to get into with the Pan America. For Indian, the platform and engine are already done and the brand might even be able to bring an adventure bike to market sooner than the Pan America shows up, which is supposed to be in 2020. Of course, this is just my own speculation, and time will ultimately tell.
From the styling to the pricing to the spec sheet, it sure seems like Indian knocked it out of the park with the FTR 1200. If this thing's real-life performance is as good as we hope it is, we think Indian Motorcycle will have a global winner on its hands when this bike hits dealers next spring[/vc_column_text][/vc_column][/vc_row][vc_row][vc_column][vc_video link="https://youtu.be/36_t4b59zqg"][/vc_column][/vc_row]