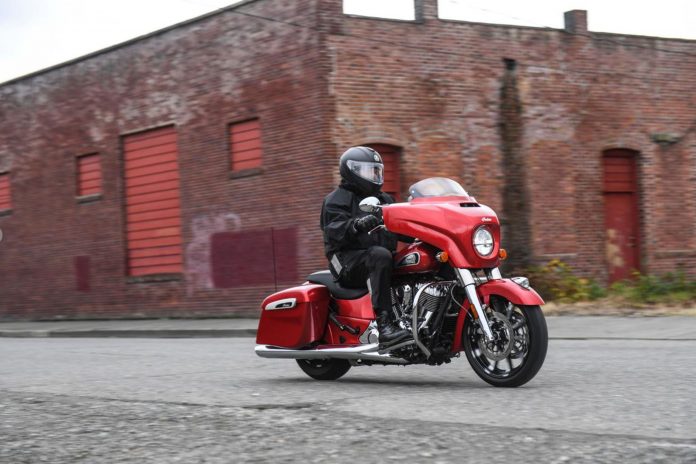 2019 Indian Chieftain Test Ride And Review: Straddling The Line
Brand heritage cuts both ways. It can enhance customer loyalty, binding longtime fans to new offerings based on past experiences. It can also strangle development, as the appetite of loyal fans must be fed. Indian Motorcycle found a way to straddle this line with the redesigned 2019 Indian Chieftain lineup.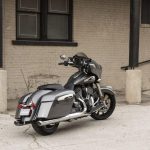 In case you need a refresher – Indian Motorcycle was originally founded in 1901, predating rival Harley-Davidson by two years. Indian thrived through the first part of the Twentieth Century, then stumbled in the post-World War II years, ultimately caving to bankruptcy in 1953. Multiple attempts were made to keep the brand alive over the next seven decades, with the Indian logo appearing on a variety of motorcycles during that period. From 1999 to 2003, a Gilroy, California-based Indian Motorcycle Company of America (IMCOA) produced a lineup of Harley-Davidson clones dressed as Indian bikes, while preparing to launch an all-new Indian. But it was not to be, as the financial tides forced a sudden closure in 2003. In 2006, private equity firm Stellican acquired the rights to the Indian name and backed a new facility in Kings Mountain, North Carolina to build a continuation of the IMCOA bikes. By 2009, the folks in Kings Mountain had developed a proprietary engine, the Powerplus V-Twin that IMCOA had sketched out in Gilroy, and limited production commenced. In 2011, Minnesota-based Polaris, parent company to the Victory Motorcycle brand, purchased Indian from Stellican and the Kings Mountain investors, and moved production to Spirit Lake, Iowa. Polaris quickly assembled a team of engineers and designers, and developed an all-new Indian Chief and Indian Chieftain, which debuted as 2014 models. In 2017, Polaris announced that production of Victory motorcycles would cease, and that the parent company would instead focus its energies on the future of Indian Motorcycle. The Indian lineup has expanded to include the Roadmaster, Scout, Scout Sixty, Springfield, and several variants. The company recently revealed the all-new FTR 1200, adding a new race-inspired model to its lineup.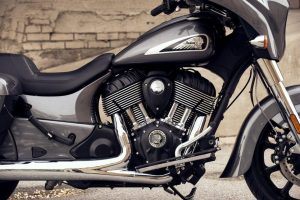 Chieftain is a bagger with a fairing, two-up seating and locking hard saddlebags. There will be four versions of Chieftain for 2019: Chieftain (starting at $21,999); Chieftain Dark Horse (starting at $25,999); Chieftain Limited (starting at $25,999) and Chieftain Classic (starting at $24,999).
Chieftain Classic is pretty much a carryover model, featuring the Art Deco styling of the original bike. It shares the mechanical bits (engine, transmission, electronics) with the new Chieftains, but retains the classic tin and 16-inch cast wheels front and rear. The front fender is deeply valanced, and crowned with a chromed illuminated Indian head-dress marker light.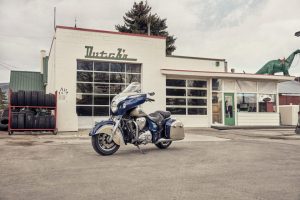 The other three Chieftain models get a newly streamlined and restyled fairing, seat and hard saddlebags. A 19-inch 10-spoke cast wheel in front wears an open fender with an illuminated Indian head-dress ornament that is 20% smaller than the Classic's. The fork-mounted fairing has been completely redesigned. It is smaller than before, with sharper lines and less trim. The driving lights have been eliminated in favor of a single LED headlamp that is frenched in. Twin turn signals are mounted low on the sides of the fairing, even with the bottom rim of the headlamp. A horizontal vent slot appears below the windshield. A power-adjustable windshield raises and lowers via grip-mounted controls. Side-view mirrors poke out from behind the fairing, sprouting on stalks fixed to the handlebars. The restyled saddlebags are longer and lower than before (but with slightly greater volume, 18.2 gallons vs 17.2 gallons), with sharp lines and edges that match the new fairing. Color-matched closeouts fill the gaps between the bags and the rear fender. The new saddlebags are no longer fitted with a quick-release – you now have to use a wrench to unbolt them. Indian says that their research showed that few owners ever removed their Chieftain saddlebags, so the feature was deemed unnecessary.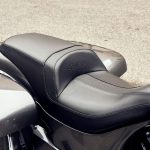 A new seat, which Indian calls "Rogue gunfighter," is a sleek, trim unit with an elevated pillion portion and less overhang than the Classic model. The 5.5-gallon fuel tanks are branded with distinctive applied Indian head-dress badging (as opposed to the painted emblem on Classic).
The total effect of the makeover is dramatic. The new Chieftain suddenly looks thoroughly modern and sleek. While the appeal of the Art Deco Chieftain Classic is still undeniable, it suddenly looks a bit stodgy sitting next to its trim sibling. Without abandoning its roots, Indian has found a way to bring the Chieftain up to date beautifully.
The makeover comes with attendant technology upgrades, too. The base Chieftain gets the same seven-inch touchscreen with a 100-watt audio system with AM/FM radio, Bluetooth and a USB input, while Ride Command, Indian's infotainment system, comes as standard equipment on Chieftain Dark Horse, Limited and Classic. Ride Command's GPS navigation system and customizable split-screens work without a hitch, and now include the capability of storing up to 100 navigation waypoints in a Custom Route Builder function.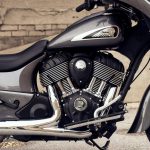 The 1,811-cc (111-cubic-inch) Thunder Stroke 111 engine is a 49-degree V-twin that is air/oil-cooled, and is tuned to produce 119 lb-ft of torque (Indian doesn't quote horsepower figures). The engine now features automatic rear-cylinder deactivation, designed to reduce engine heat at idle. That will be welcome during low-speed operation in summer months, when paddling through traffic can be quite uncomfortable. The six-speed manual transmission snicks through the gears smoothly, and clutch effort is light and manageable. Final drive is by belt, which requires minimal maintenance. Three ride modes (Tour, Standard and Sport) are accessible on the fly via the infotainment screen. Thanks to ride-by-wire throttle control, the system maps distinct throttle behaviors to match the rider's preferences and riding style. Ride mode settings are retained when the ignition is restarted, so you don't have to re-select your preferred mode each time you ride.
Front suspension is handled by a 46-mm telescopic fork with 4.7 inches of travel, while the rear single shock is air-adjustable and has 4.5 inches of travel.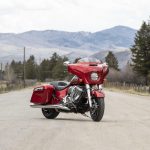 Of course, there are upgrades available for the Chieftain lineup. If you're looking for more power, you can swap in a Stage 1 Exhaust, a Thunder Stroke Stage 1 Performance Air Filter, and/or Thunder Stroke Stage 2 Performance Cams. Even more grunt is available with the Thunder Stroke 116-ci Stage 3 Big Bore Kit, which adds 20 percent more horsepower and 20 percent more torque to the package. Styling upgrades and custom fit options, including four styles of exhaust tips, mid-rise handlebar and an extended reach seat, are also available. A powerful new audio upgrade, Powerband Audio, adds amplification to each speaker and saddlebag-mounted speaker options. The system delivers an impressive increase in volume with great clarity.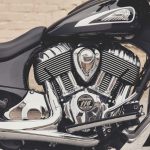 During a two-day ride in Washington State, I got a chance to ride each version of the 2019 Chieftain, along with a stint on an accessorized bike fitted with the 116-ci Big Bore Kit. The sleek new design and 19-inch front wheel makes the bike feel lighter and more maneuverable (actual weight of the Chieftain vs Chieftain Classic is 790 lbs vs 808 lbs). The stock bike has plenty of power and a great sound, and handles beautifully, tracking solidly through curves and smoothly along straightaways. The suspension is stiff but not harsh, which makes it easy to ride assertively. Over the course of a couple of 200-mile days, the Rogue seat was comfortable, though at six-feet two-inches tall, I would have welcomed the extended reach version for a little more legroom. Riding the hopped-up Big Bore-kitted bike, I loved the additional horsepower, but I would probably leave that option for later, after putting some substantial miles on the bike in stock form. I appreciated the convenience features, like keyless ignition that let me keep the fob in my pocket, and power-locking saddlebags.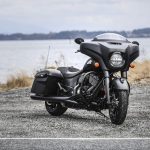 Indian will always be measured against its rival Harley-Davidson. If Chieftain has a direct competitor in the H-D lineup, it is the Street Glide (starting at $21,289). Chieftain, with its sophisticated frame and 4.5 inches of rear travel (vs Street Glide's 2.1 inches), outhandles Street Glide, and comes with standard ABS (a $795 option on Street Glide), and the Thunder Stroke 111 bests the Milwaukee-Eight 107 by 8 lb-ft of torque. Styling is always a matter of taste, and I'd call it a draw. Harley-Davidson has the heritage edge, by virtue of continuous production since 1903 vs Indian's interrupted and acquired lineage, and that matters to a lot of people.
If you judge a bike on its current merits, the 2019 Indian Chieftain is a winner, and a bike I'd be proud to host in my garage. I'd choose the Chieftain Dark Horse, the most striking styling exercise in the class.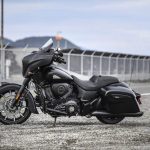 have reviewed hundreds of cars, trucks, SUVs, crossovers, minivans and motorcycles for a wide assortment of magazines and websites. If it's got wheels and an engine, I want to drive it or ride it, and then write about it.