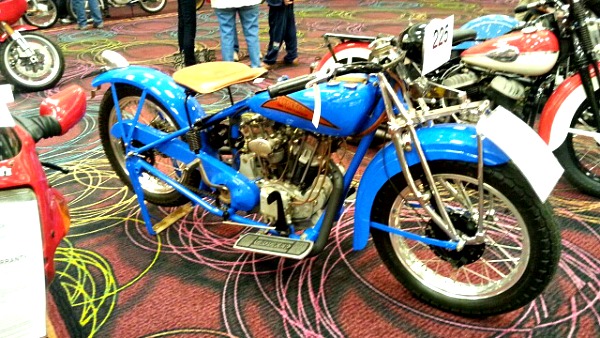 The 5th Annual Las Vegas Motorcycle Auction conducted through Bonhams at Bally's Hotel & Casino Jan. 7-8, 2015, contains three motorcycles previously owned by the late Steve McQueen.
As frequently happens, there was more than one lot that did not meet its reserve and had to be reloaded for the long trip home. But there were a few standouts in the crowd that panned out rather well for their owners.

Two of those standouts were a beautiful 1959 Ducati 175cc F3 Production Racer that brought in $89,700 and a rare (only 15 produced) 1950 Vincent Series C White Shadow that sold for $224,250. It was projected to sell for $170,000. Both of these bikes caused quite a stir.

It wasn't just vintage motorcycles on the block Jan. 8, either. On the newer side there was a 1990 Honda RC30 with only 740 miles on it that went for $52,900, which is pretty impressive.

Of course there were the motorcycles with a provenance on display as well, like the trio of Steve McQueen bikes that came up for auction. The legendary actor was known for amassing an amazing collection of motorcycles in his lifetime. Last year a couple of Indian Chiefs he owned came up for sale.

This year a 1912 Harley-Davidson X8E Big Twin that was once his came up again. It was originally sold at the Steve McQueen estate auction at the Imperial Palace in Las Vegas back in 1984.

Rumor has it McQueen rode the bike in a vintage motorcycle event. It's not in its original form anymore, though. The wheels were changed and a headlight was added after the bike left McQueen's hands. In spite of these modifications, it was still brought in $117,300 this week at Bally's.

Another of his bikes was a 1936 Indian Chief that was also sold as part of his estate in '84. It's said to be in the same condition as when McQueen owned it. The bike came with a certificate of authenticity (COA), the signed bill of sale from the '84 auction and a 1936 license plate from Carmel, Calif. It was predicted to sell for between $80,000 and $100,000, but never met its reserve.

Besides McQueen's bikes, there was a beautiful example of an old 1911 Peugeot Moto Legere MD 350 Twin that sold for $26,450. Back then the French were at the forefront of motorcycle design and production.

Another oldie was a 1912/13 Harley-Davidson Model 9B Single in original and unrestored condition that sold for $82,800. Interestingly, it has only had two owners in its entire lifetime.

Speaking of not meeting its reserve, a gorgeous 1938 Harley-Davidson EL Knucklehead restored to 100 points was put up for between $100,000 – $130,000. The highest bid only reached $80,000, so it was ultimately withdrawn as well.

As with most years, there was also some great memorabilia pieces available such as posters, photographs, manuals and brochures, among other collectibles up for sale.

Even with the handful of withdrawals, all in all the 5th Annual Las Vegas Motorcycle Auction was actually a huge success for most everyone involved.
Source: 5th Annual Las Vegas Motorcycle Auction With Bonhams Goes Off At Bally's Hotel & Casino With Three Steve McQueen Bikes : From A to B : Design & Trend